Meet Joel Maizonnier, PHP Developer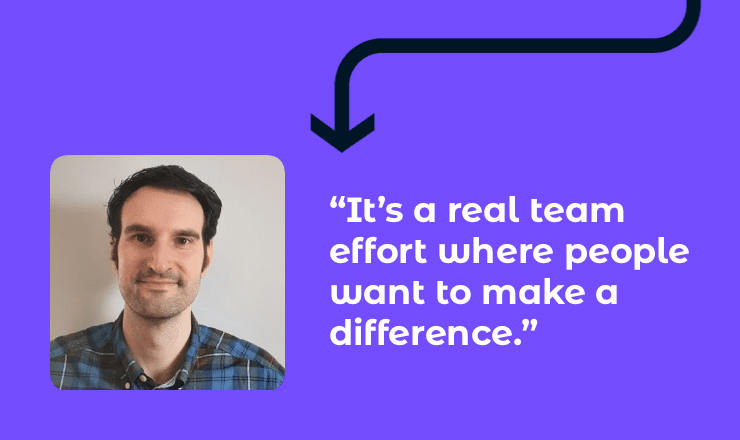 We mentioned in our end of year review that we'd be hiring more staff, and we've been busy behind the scenes doing just that. The funding BaseKit secured has allowed us to expand our team, which means we can further our mission to help micro-enterprises thrive online.
We're really excited to introduce you to our new PHP developer, Joel Maizonnier.
Our dedicated developers are the backbone of our product suite at BaseKit. They are not only instrumental in developing new features for existing products and delivering entirely new ones, but also keeping our products secure so that micro enterprises around the globe can constantly grow and succeed with BaseKit digital software.
We caught up with Joel to learn about his passion for development, what he enjoys about working at BaseKit and why you'll often find him outdoors at the weekend.
Welcome to BaseKit, Joel! Where did your love for development begin?
Thanks, it's great to be here! My passion for web development started a long time ago, at secondary school. Back then, in the glory days of Internet Explorer and Flash, I made static HTML pages. Skip forward a few years, and at university I cut my teeth in object-oriented programming (OOP). I created various programs in Java and built my own framework to support an e-commerce project written using PHP.
Tell us a little about your previous work experience?
After university, I began my career in web development, working for an insurance firm. I spent six years with the company, working on various in-house PHP and multi-tenanted systems such as Salesforce. The systems and projects I was involved with ranged from large monoliths to small interconnected applications. During this time, I also had the opportunity to work under numerous development methodologies.
Moving on from the Fintech space, I started working for a cyber security start-up. I was part of a larger development house and helped develop a collection of Laravel applications, which supported an online automated pen-testing suite. Here I had the opportunity to work with VueJS using the Nuxt.js framework, which I really enjoyed. It was a welcome change to see the backend framework structure and practices be adapted in frontend development.
What most attracted you to join BaseKit?
At the start of 2019, I was unexpectedly diagnosed with MS. By the end of the year, the business which employed me at the time went into administration. At this juncture, I decided to take time away from work and focus on my health and wellbeing for a while – not to mention, I wanted to avoid a nasty virus called COVID-19.
After two years out, I was itching to get back to doing what I love, web development! The thought of returning to work after having time out was a daunting prospect. But when I came across BaseKit's development role, I was intrigued. During the pandemic, a friend of mine started their own company and I could see instantly the value in BaseKit's products. Micro enterprises rely on digital products, as my friend's enterprise made clear, so it made sense to apply!
Another huge plus was that my position would be fully remote and offer flexible working. These factors were a game-changer for me. The flexibility and the opportunity to work from home, allow me to work around the unexpected challenges life presents.
What does your new role involve?
Lots and lots of learning! I've learnt so much in the short time I've been with BaseKit. This has included the practical side of the job, such as learning new tools, development practices, security concerns, and new framework features and packages. Oh, I forgot to mention the best part, developing new features and products!
Working at BaseKit has given me an opportunity to get up to date with the latest trends and news within web development and tech circles. I've also learnt a lot about the micro enterprise community that BaseKit supports; it's been interesting to see how the development work we do impacts real micro-enterprises globally.
How are you finding remote working at BaseKit? 
Having worked previously within a hybrid development team, starting a remote role was a new experience. As my role is fully remote, it's important to make opportunities to interact with colleagues. The development team have a virtual social meeting each week, which for me is a great opportunity to have fun with the team and get to know my co-workers.
Each month we have a company-wide catch-up on progress and new development for each department. I've found these so informative and it really brings the company together; it's a good reminder that while we are all individuals with our own roles and responsibilities, we are all working towards success as a team.
How would you describe the developer team culture?
Super friendly. Everyone helps and supports each other and we have a lot of fun whilst working hard. I have already mentioned the tech socials when we play online games or host quizzes. It breaks the ice and helps the team forge stronger bonds.
As a whole, working within the development team is going great and remote working hasn't hindered progress at all. It's a real team effort where people want to make a difference: we all pitch in to help answer any questions and use pair programming tools when working on complex problems.
What are your main goals at BaseKit?
To empower micro-enterprises, provide them with accessible and intuitive tools, allowing them to focus on what's really important.
What's been your favourite thing about BaseKit?
As a developer, I love being challenged. Each day brings up a different problem, which offers a great sense of achievement.
Tell us something about you
Being a mountain bike nut, if it's not raining, I'm out on my e-trike as much as possible. A day on the trails is totally unpredictable and there's always a lot of laughter! Since the lockdowns, I've enjoyed pursuing quieter hobbies too. On wet days, you'll find me at work on my painting skills as I enjoy painting miniatures.