Welcome Richard, Frontend Developer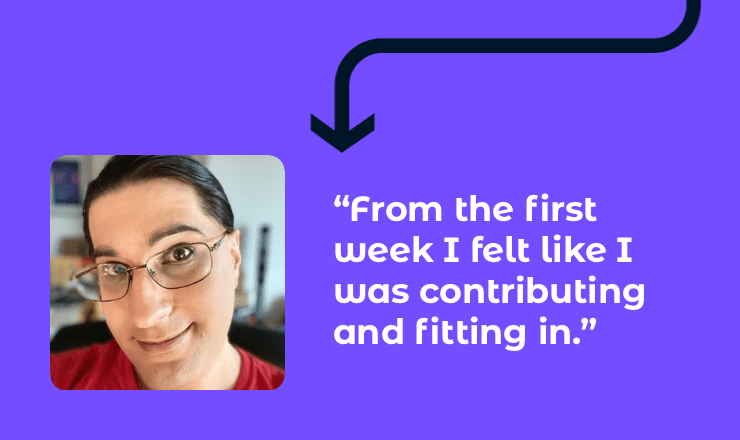 As we head into the second half of 2022, we're pleased to announce the arrival of our new frontend developer, Richard Whittaker. Our development team is critical to ensuring the BaseKit product suite delivers on our promise of helping micro businesses thrive online worldwide. We caught up with Richard about the culture at BaseKit, what their new role involves and learning new skills in Japan, and at the BBC!
Welcome to BaseKit, Richard! Tell us about your previous experience?
Thank you, I'm really happy to be here! I left university in 2005, with a degree in Multimedia Technology and Design. Even though I'd been making websites since 1997, I jumped on the chance to do something a little different and instead went to work as an English teacher in Japan for three years. This was a brilliant experience and I think it really expanded my horizons for when I eventually made it back to the UK!
Once back, I worked on the BBC Bitesize website in a semi-technical, semi-editorial role. It was a great first role, mixing a lot of disciplines I was both familiar and unfamiliar with, but in the end I wanted something more technical.
I joined the BBC's intranet team knowing just plain JavaScript and a simple understanding of testing principles, and quickly learned AngularJS, Angular, React, and Test-Driven Design principles on the job. My time there really increased my skills and I was able to work on a wide variety of internal tools and websites with quite different frameworks and setups.
What attracted you most to join the BaseKit Team?
When I was looking for a new role, I had three main requirements from my employer: First, they had to do something beneficial to society. I was used to working in public service and I wanted to make sure that when I made the jump to the commercial sector, my work would keep on helping people. BaseKit answers an incredibly common need in our modern world – maintaining a web presence and supporting small business owners without needing all the technical knowledge that is necessary for my role!
Second, they had to put people first and be welcoming of people from all walks of life. I publicly came out as non-binary just a few months before I applied for the position, and everyone I talked to through the interview process was incredibly friendly and accommodating.
Third, I wanted to be able to work fully remotely. It's really wonderful to be able to live wherever you like and still be able to work with people all around the world. I'm really happy that BaseKit's role handily fulfilled all of my requirements!
What does your Frontend Developer role involve?
I am working on the front-end (that is, the user-facing parts of the website) of our current and future products – maintaining and fixing customer-reported issues with the older ones, as well as writing up new features from scratch along with my wonderful colleagues!
I'm glad that we often pair-program, tackling tougher challenges together, and learning new techniques and methodologies from each other. Everyone here has different areas of knowledge, so it's really validating to not only be able to offer your own knowledge to others, but absorb it from them too.
How are you finding remote working at BaseKit
It's great! Luckily I was already used to remote working in my previous employer, so I didn't have much to adapt to. The tools offered to us are top-notch, making communication between team members really easy, and allowing me to get on with my work rather than having to wrestle with the tech. Meetings are well-moderated and don't drag on for longer than they have to. Everyone is super-approachable and you never feel alone or isolated.
How would you describe the developer team culture?
I'd probably classify it as "professionally fun and friendly"! I'm more of an introvert, and before joining I was a little worried I'd have to be far more social than I was comfortable with, but I think the team strikes the perfect balance.
Everyone is so friendly and a real joy to talk to. We have weekly game sessions that are a lot of fun. Meetings are short and conversational. There's no pressure to be anything more than yourself, and I feel so comfortable and accepted here!
What are your main goals working at BaseKit?
To improve my own coding skills and knowledge, improve the codebase to make it easier for other developers to contribute new features, and to make the products better and even more reliable for the end-users.
What is your favourite thing about BaseKit?
Honestly, it has to be the support from all my colleagues. It's not always easy to join an established team of people who know each other well, but right from my first week here I felt like I was contributing and fitting right in. Everyone I've worked with is fantastic!
What do you enjoy doing in your spare time?
Before the pandemic, travel was definitely one of my biggest hobbies. It saddens me that I haven't been able to travel for such a long time, but I'm trying to at least get to know my city better by going for long walks, exploring new areas I've never been to before. When stuck at home, I have to settle for exploring new worlds through video games!/
Would you like to join our world as a developer?
We'd love to hear from you! Check out our latest vacancies.