BaseKit submits application for B Corp: Our journey so far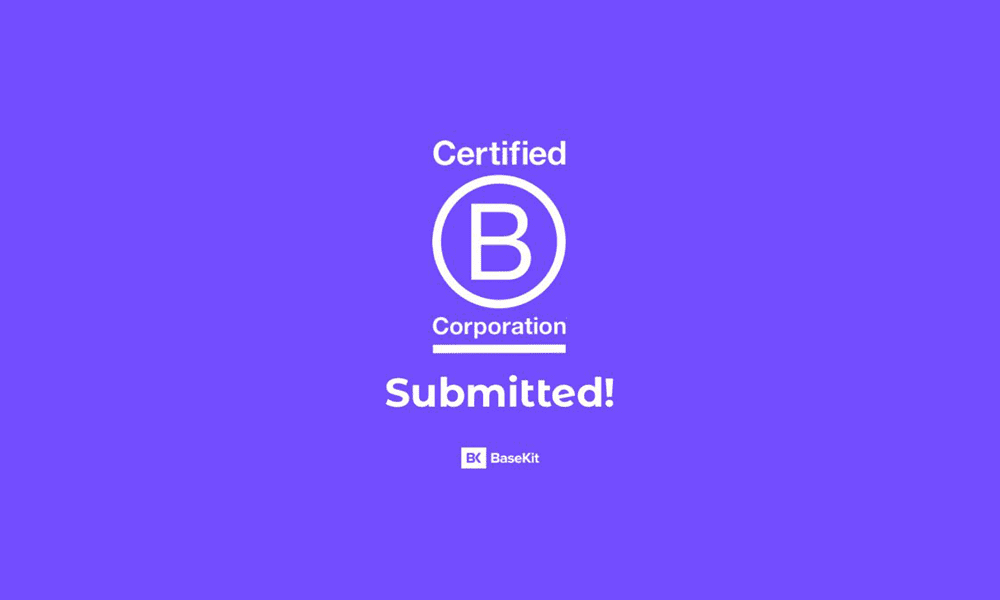 At the start of 2022 we embarked on a journey to become B Corp certified. We wanted to re-align our company mission to become a force for good and a business that benefits all people, communities, and the planet.
This month we are really excited to have completed and submitted our application to join the thousands of businesses on the same journey joining the global movement to become socially and environmentally responsible for a better world.
In this article we talk with HR Director, Wendy Weston, to find out more about why the decision to become a B Corporation was made, how the application process has progressed, and the positive impact we're hoping to have as an organisation.
Green Team champions 
"There was a growing consensus across the business that we wanted to become more environmentally friendly and the idea of becoming B Corp certified was initially discussed by a group of employees we call 'The Green Team'." says Wendy.
"We had all heard of B Corp but needed to understand the process involved and the required ongoing commitment in more detail."
Indeed, achieving B Corp certification is no small undertaking, with a business having to meet high standards of 'verified performance, accountability, and transparency on factors from employee benefits and charitable giving to supply chain practices and input materials.
"We wanted to become B Corp certified as it shows a real commitment to all social and environmental matters. This is important to us as a business, to our employees pushing our force for good agenda, and to those we work closely with – our partners." Explains Wendy.
Creating ambassadors for good 
On average, it takes a small business between 6-8 months to complete the application process and become B Corp certified.
"It's been a real education so far. We've learnt we were already doing lots of great things, but the process has helped us focus on what really matters and what we need to work on."
To achieve certification, a business needs to demonstrate that they're delivering against five impact areas: workers, customers, suppliers, community, and the environment.
"We have a senior management ambassador for each B Corp impact area to help drive engagement and action at BaseKit. Members of their wider teams are already involved in areas of B Corp such as carbon reduction and charity work, and there's so much more to come." says Wendy.
"At the start of the year we also pledged to plant 10,000 trees with Ecologi and are well on our way to achieving this. In May we were delighted to receive our Green Small Business Certificate in recognition of our environmental commitment. I'm also really excited to have launched the Electric Dreams salary sacrifice car scheme, in partnership with Octopus Electric Vehicles (OEV), to give employees the chance to drive a brand new electric car."
The company has also created a more diverse workforce, increasing the percentage of females and ethnic minorities in the team.
Committed for the long term
With data showing that worldwide interest in B Corp has increased by over 70% in the last year, it's important that those looking to embark on their own journey to certification understand the commitment involved.
"It's really important to take the time to understand what's expected in detail. It is a commitment from all areas of the business, not just for now but for the long term." says Wendy.
"We worked with incredible B Corp guru, Andy Hawkins from Business on Purpose. He really helped us focus on what was important and made sure we were providing the right supporting evidence to demonstrate our long-term commitment."
Keep an eye on our blog and follow us on LinkedIn to stay up to date on how our B Corp application is progressing and the great work being championed by our B Corp ambassadors.