Meet Matthew, Partnerships Manager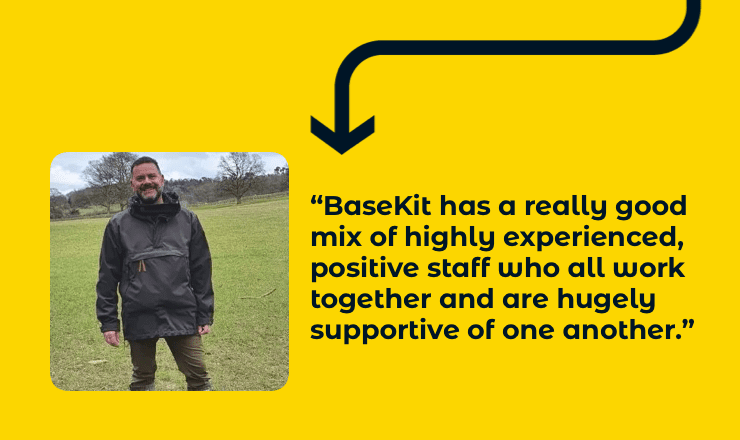 We currently work with 100+ partners and help millions of small businesses grow online with our easy to use software. As part of our tech democracy mission to reach as many entrepreneurs and business owners as possible, we're always looking to develop relationships with new partners in different markets around the world.
Enter our Partnerships Manager Matthew Clarke.
Tell us a little bit about your experience?
I have been working in IT sales roles since 2001, starting in IT Distribution with Ingram Micro, Tech Data and InTechnology. Over the last seven years I have worked with start-ups around telco products, Cisco training, professional services and now BaseKit.
What most attracted you to work at BaseKit? 
The culture. I looked at the reviews on Glassdoor and could see that this is a business that looks after its employees, and in return the employees are passionate about seeing BaseKit be as successful as possible.
What does your new role involve?
Winning new partners who are excited to offer our white label software to their small business customers. This involves exploring new verticals beyond our established hosting and telco partners.
How would you describe the culture?
BaseKit offers a very positive 'can do' culture. The management style is very much 'hands on' with the leadership team keen to assist wherever they can to help us grow this business.
What are your main goals?
Winning new business! It's always great seeing a new partner come on board and become successful. Part of my role is looking at new verticals, working closely with the marketing team to identify opportunities and I'm excited to see new traction, particularly in the 'Super App' area, with a number of new partners from the sector.
Favourite thing about BaseKit?
I would have to say the culture, it's the people that really make the business. BaseKit has a really good mix of highly experienced, positive staff who all work well together and are hugely supportive of one another.
What do you enjoy doing in your spare time?
In my spare time I enjoy walking the dogs. I have two Border Terriers 'Woody and Pickle'. I also enjoy eating out with friends and always enjoy having friends over in the summer for BBQ's and making pizza in my Gozney pizza oven! I also enjoy travelling and spending time in countries that have more sun than we do ! (there are quite a lot of them!)
Interested in joining the BaseKit team?
We'd love to hear from you! Check out our careers page for the latest BaseKit vacancies.