BaseKit partners with leading African super-app ayoba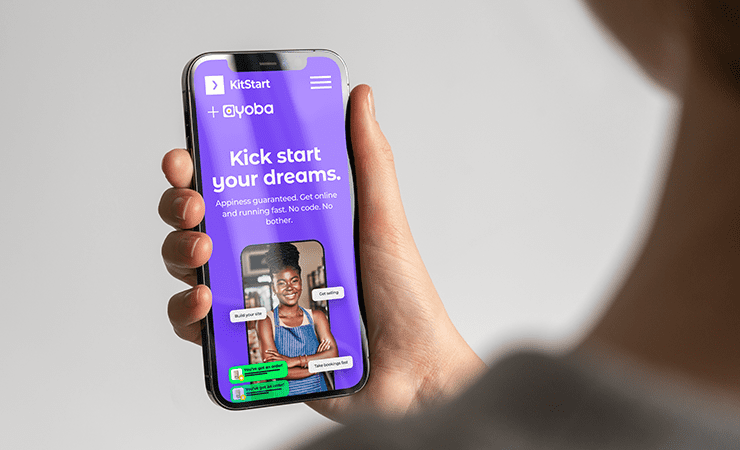 BaseKit is delighted to announce we have partnered with leading African communication platform and super-app ayoba to help democratise tech and kick start the dreams of entrepreneurs across Africa.
Started only in 2019, ayoba already offers its users the ability to chat, call, share, play, listen, read, pay, shop and more to 25 million monthly active users across Africa. The super-app also empowers small businesses in Africa via its MicroApps platform.
ayoba has joined BaseKit's referral program, KitStart, to enrich their user experience. Via its MicroApps platform, anyone with a business idea now has the chance to leverage their identity through entrepreneurship and start a business on their mobile phone.
Here we talk to Chief Ecosystem and Business Development Officer Eero Tarjanne and Head of Business Development, David Graham, to understand more about ayoba's strategy for growth, why they chose BaseKit and their mission for the future.
Helping African business step into the digital future
For ayoba, being able to build a community of people who can leverage their identity through entrepreneurship is of critical importance to their growth strategy and mission.
"At ayoba, offering our users the option to start a business on our super-app promotes entrepreneurship, provides access to a large user base, offers convenience and visibility, integrates into an ecosystem of services, and facilitates community building." says David.

"These factors collectively make it important for ayoba to provide this opportunity, benefiting both the entrepreneurs and the overall ayoba user base."
ayoba wanted a mobile responsive editor that could quickly and seamlessly integrate with their super-app. Critically it had to be one that delivered a slick and smooth user experience, with no prior technical knowledge.
"BaseKit provides an accessible and intuitive platform for building a professional website without requiring extensive technical knowledge or coding skills." Eero says.

"It simplifies the process, allowing you to focus on creating a great user experience and achieving your website goals. It also aligns with our micro app value proposition further expanding our marketplace offering to truly reach our mission to help African business step into the digital future, confidently!"
Recognising the exponential trend of mobile-first
BaseKit's referral program allows ayoba to deliver our award-winning platform directly via its micro app marketplace, making it very easy for users to find and sign up in a familiar environment, with a simple referral to a co-branded website.
"With the integration of BaseKit into our micro app marketplace, users can now access an extensive range of tools and resources within their preferred environment. By streamlining the setup process directly within the micro app, we eliminate the need for users to navigate multiple platforms, ensuring a smooth and uninterrupted experience." says David.

"One of the key advantages of utilising BaseKit is the ability to create and customise content in a mobile-friendly manner. Recognising the growing trend of mobile usage among our user base, we have prioritised a mobile-first approach, allowing our users to conveniently build and design their projects on the go. This crucial feature aligns perfectly with our users' preferences, enabling them to accomplish their objectives efficiently and effortlessly."
Fostering widespread growth
Creating the means for entrepreneurship to thrive among its user base is a key ingredient in ayoba's roadmap to improving its appeal to the African people.
"The inclusion of BasKit as a featured service in our micro app marketplace offers our users the convenience of a familiar environment. By enabling setup directly within the micro app, users can effortlessly initiate their website and complete their build using a mobile format, which is of utmost importance to our users. The seamless transition between ayoba and BaseKit, combined with our mobile-first approach, simplifies the process for users and encourages widespread adoption of our platform." says David.

"We firmly believe that this integration will revolutionise the way our users approach their projects, allowing them to create, build, and customise their content effortlessly. This all-in-one approach will drive new user adoption as well as help foster fast growth in our micro app offerings and services offered. We want the micro app marketplace to be as zero-touch as possible and with the BaseKit offering this further helps drive a self-sustaining entrepreneurial-focused offering. Says Eero.
In line with our own mission for tech democracy for small businesses around the world, BaseKit is very excited to be part of a fantastic initiative to bring more opportunity for entrepreneurship across Africa wtih ayoba.
You can check out KitStart in partnership with ayoba right here.