BaseKit Hack Week 2022: Let's go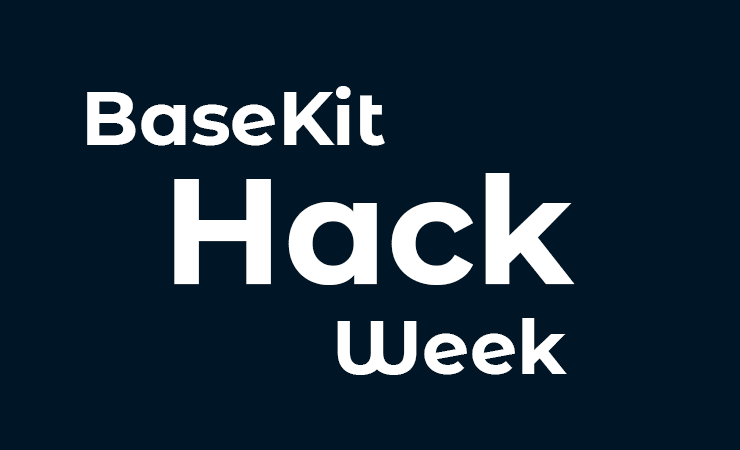 Every year the BaseKit dev team embark on a week of interruption-free experimentation and ideation.
The annual BaseKit hack week gives our developers the chance to make things outside of the usual constraints and pursue any ideas that have potential relevance to us or our customers.
The goal?
To get a new idea to the point that it can be demonstrated, or if that's not possible, be able to demonstrate the underlying tech for the idea. 
When 90/10 time isn't quite enough 
For the majority of the year, our development team is focused on delivering our product roadmap. 
The team is always coming up with great ideas and we have a 90/10 time policy – where developers can spend 10% of their time on non-roadmap projects.
But (there's always a but) some ideas need a longer period of focus and hack week gives everyone a chance to think about one idea without distraction.
Ideas for experimentation
This year our developers explored the following ideas:
🤓🎨 Using sentiment analysis of text to suggest appropriate colours and styles for a site
🦾📚 Employing auto categorisation of site content i.e. blog posts or store products
🤖🔍 Using ChatGPT to generate ALT tags, page descriptions and other content used for search engine indexing
💬🖊️ Implementing predictive content usability analysis so that customers can understand what change might improve their content before they publish it 
⌨️🗄️ Helping our support team by summarising and categorising support requests using AI text analysis 
📖🙂 Using machine learning to suggest accessibility improvements 
Generative tech. A human-machine partnership.
One of the main areas of interest at this year's hack week was generative tech and how these new technologies could be used for words and images.
Communicating the benefits of their product or service is a perennial challenge for small businesses, who can often struggle to find the time to write content or appropriate imagery for their business. 
Add the costs involved with employing a writer or graphic designer and you can see the game changing potential generative technologies could have in helping small business owners create better content for their websites.
Speaking about hack week, BaseKit Technical Director, Mark Jeffries said:
'We've been amazed by the creativity and speed of the team.
'They came up with so many great ideas that it was hard to narrow them down.
'It was great to see just how quickly the team could take ideas and turn them into working demonstrations.'
Making the cut to development
To evaluate the different hack week projects and see which could be progressed for inclusion in our sitebuilder, each idea was sorted on a RICE scale (Reach, Impact, Confidence, Effort) to give us a shortlist.
From there we picked an idea that would be achievable in the short term and crucially would serve as the foundation for other AI and machine learning projects in the long term. 
And the winner is…
The winning idea this year was to use AI and machine learning to improve product descriptions in our BaseKit Store.
The rationale…
Writing a good product description is an important part of the online selling process. 
We know many of our small business customers find this kind of writing to be challenge, especially if they sell lots of constantly changing products. 
First time hacker. 
Discussing his first experience of a BaseKit hack week, Full Stack Developer, Rhydian added:
'Hack week presented a unique and fun opportunity for me to better understand the technical explosion that is happening in the AI sphere right now. 
'Reading about it is very different from exploring it through code, and so I got to experience first hand what the fuss is about when everybody talks about AI.
'Finding problems that are solvable by AI requires knowledge of its capabilities and so having explored it we can begin to utilise this amazing technology for BaseKit, our partners, and ultimately their customers. 
'The language model is awesome for human interaction, but it also understands the more technical aspects of our codebase.
'Now, when I read a technical article or blog post talking about AI, I can see it from a more experienced technical perspective instead of peeking through the looking glass at a party that I wasn't invited to.'
We're on a mission for tech democracy for small businesses – are you in? Request a demo of our software, or get in touch to see how we could collaborate.