BaseKit Impact Report 2022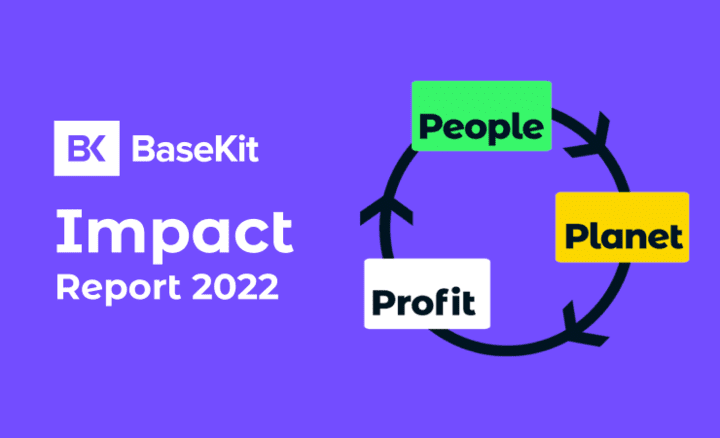 We're excited to launch our 2022 Impact Report which brings to life the work we have done, and the impact we have made in the first year on our road to B Corp status.
Working towards B Corp certification is part of a wider objective to have a genuinely positive impact on the people and planet that surrounds us. 
BaseKit CEO, Simon Best, said:
"At BaseKit, a really important part of our mission is to be a force for good. B Corp has really helped us raise our game in our approach to this part of our mission. It's helped us think more carefully about how we approach social and environmental issues across the business. It provides this really amazing structure that we can use so we know we're always doing the right thing."
Working within this structure of five impact areas – governance, people, community, planet and customers – has been vital in helping us implement meaningful change across the business.  
Wendy Weston, BaseKit HR Director and B Corp Lead, added:
"Having started our B Corp journey a year ago in our quest as a team to take our sociable and sustainable commitment more seriously, the process has been a real education for me personally. I am so proud to look back to see how, together, we have achieved such big steps towards our B Corp certification. As an employer this demonstrates our devotion both internally and externally to be a force for good, which is extremely important to us all at BaseKit and I cannot wait to see what we can achieve in years to come."
Over the last 12 months we've made significant progress across all areas of B Corp:

We've reaffirmed our mission to a force for a good

Implemented new ways to hold ourselves accountable

Made childcare more affordable for our team

Given each employee an annual training allowance

Developed a charity strategy around direct funding, team fundraising and solo donating

Planted over 15k trees through our partnership with Ecoogi

Partnered with organisations using our software to help improve people's lives
And so much more! Read the full BaseKit Impact Report 2022 here.