Tackling tech democracy for small businesses in MENA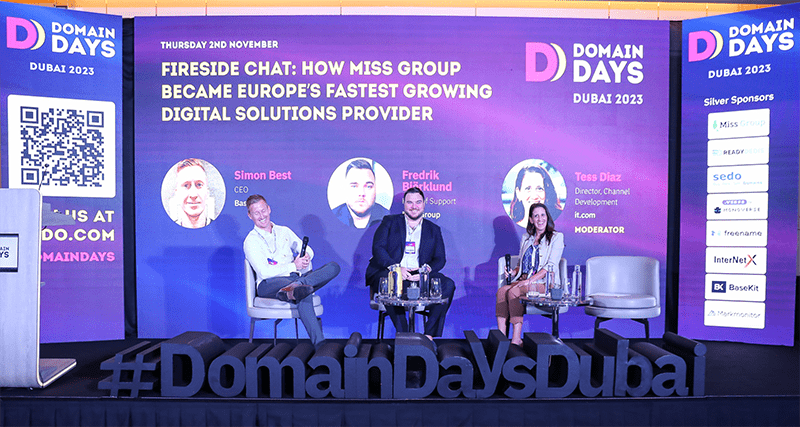 The MENA region is seeing rapid adoption of digital tools and e-commerce, with sales growth rates as high as 39% in Saudi Arabia, 38% in UAE, and 28% in Egypt, and an outlook of continued growth over the coming years.
With existing partnerships with major players in the Middle East and North Africa region, BaseKit was delighted to speak and sponsor the inaugural Domain Days Dubai earlier this month. The event provided a fantastic opportunity to discuss how to support the entrepreneurial spirit of the MENA region and how digital products and partnerships can drive tech democracy for small businesses.
Here, CEO Simon Best outlines his view on the opportunity to drive tech democracy in MENA, and his highlights from the Domain Days Dubai event, which brought together major players from the hosting, SaaS and domain space to discuss how they can help grow the MENA small business empire.
I believe there is a big opportunity for tech companies with a mission to democratise technology and provide the right digital tools to small businesses across the MENA region. Local providers like Etisalat by e&, a BaseKit partner, are already leading the charge on tech democracy, and this is driving the appetite of other local players to join them.
Domain Days Dubai attracted both local (around two thirds) and global attendees, making for a diverse and interesting mix of viewpoints and experiences despite us all being in the same tech space. There is a lot of optimism about the future of the region.
There is clearly a lot of investment in high technology, and the next step is to focus more on smaller businesses. Domains, websites, e-commerce, and bookings are critical to help small businesses thrive in today's online world, so there was a feeling of excitement about the impact these tools could have.
However, what struck me was that localisation and education were two key challenges in the region. The need to support local languages including Arabic and the importance of providing local payment methods was prevalent in the conversations I had. Without these, it will be difficult for businesses to attract local customers. There's also a need to educate and support customers on the types of digital tools that are available and what is possible.
The reaction myself and Fredrik Björklund, COO at Miss Group, had to our fireside chat, 'How Miss Group became Europe's fastest growing digital solutions provider' was extremely positive, with the audience appreciating the candid discussion between BaseKit and our partner Miss Group. The aim of the session was to demonstrate how close partnerships can maximise success quickly in the tech space.
There were some great questions from the audience, one in particular about the differences we see between partners in the region compared to other parts of the world. I would say we see most differences in the way partners educate and support their customers, which we see is done largely by customer type, rather than by region.
I also took part in a panel around 'Transformative Tales of Website Builders, Control Panels, and Automation. This was a great discussion. We talked about AI and how we see that playing more of a part in the future of website builders. There was a question about how BaseKit can compete with a product as widespread as WordPress, and our answer is always that WordPress is a fantastic platform but it's not right for everybody, particularly small businesses that need a very simple, mobile solution.
Our partner Etisalat by e& is always looking to offer innovative products, and we had some interesting discussions about how the BaseKit products could be developed to fit with their directions. They have a particular interest in small business marketing solutions and, like us, their focus is more on social platforms like Instagram and TikTok than traditional SEO and search engine marketing. We'd like to evolve our feature set in this area next year to help our small business customers to engage their website stores and bookings websites with a wider audience.
The fundamental takeaway I took from the event was the scale of the opportunity for domain and hosting companies in the region. There are less than 1% of domain registrars present in the MENA region despite it having more than 6% of the world's population.
There is clearly a huge opportunity to reach a large audience of small businesses to help them to thrive in a high-growth region such as MENA, and BaseKit is well positioned to help partners do just that. We have a world-class, robust product that is easy to localise and built from the ground up to be simple for small businesses, but also powerful and flexible for our partners. I'm excited by what the future holds and we'll certainly be looking for opportunities to invest in the region further.
We're on a mission for tech democracy for small businesses – are you in? Request a demo of our software, or get in touch to discuss what a BaseKit partnership could look like.