Meet Kerry, Insights Manager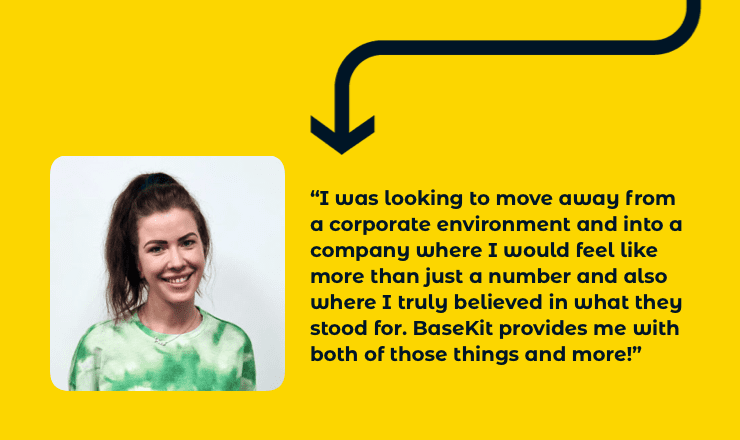 As we help a growing number of global partners to provide digital tools for their small business customers, having a better data-driven approach to strategic decision-making has never been more important.
Enter data analyst Kerry Williams, BaseKit's new Insights Manager. 
This week we spoke with Kerry to understand more about her career path up to this point and why it's important for her to work for a progressive and inclusive company. 
Tell us a little bit about your experience?
I have been a data analyst for around seven years now. I have worked within financial services, for law firms and then also utilities companies, providing insights and presenting analysis to various levels of seniority in order for business decisions to be made.

What most attracted you to work at BaseKit?
I was looking to move away from a corporate environment and into a company where I would feel like more than just a number and also where I truly believed in what they stood for. BaseKit provides me with both of those things and more!

What does your new role involve?
I work across all departments looking at various metrics and presenting them to senior management. I also create reports and have calls with our partners to show them trends/figures to help them adapt their strategies as necessary. On top of this, I am going to be working on a way to better present high level data to the whole company this year.
How would you describe the culture?
The culture here at BaseKit is very open, progressive and inclusive.
What are your main goals?
I want to help the growth of BaseKit and our partners by providing insights that better aid them with deciding on future business strategies. In addition to this, I want to make data more accessible. That way everyone has a better understanding of how we are doing/where we are heading.

Favourite thing about BaseKit?
My favourite thing about BaseKit is that I feel very valued and they want their staff to build on their own skills in order to progress. The work/life balance is also great as it provides a level of flexibility which is needed on occasion.
What do you enjoy doing in your spare time?
I love music, travelling and spending time with friends/family.
Interested in joining team BaseKit?

We'd love to hear from you! Check out our careers page for the latest BaseKit vacancies.