Make dreams.
Earn 40% commission.
With the KitStart referral program.
An effortless, cost-efficient co-branded partnership to boost
your digital services play and scale your company with small businesses.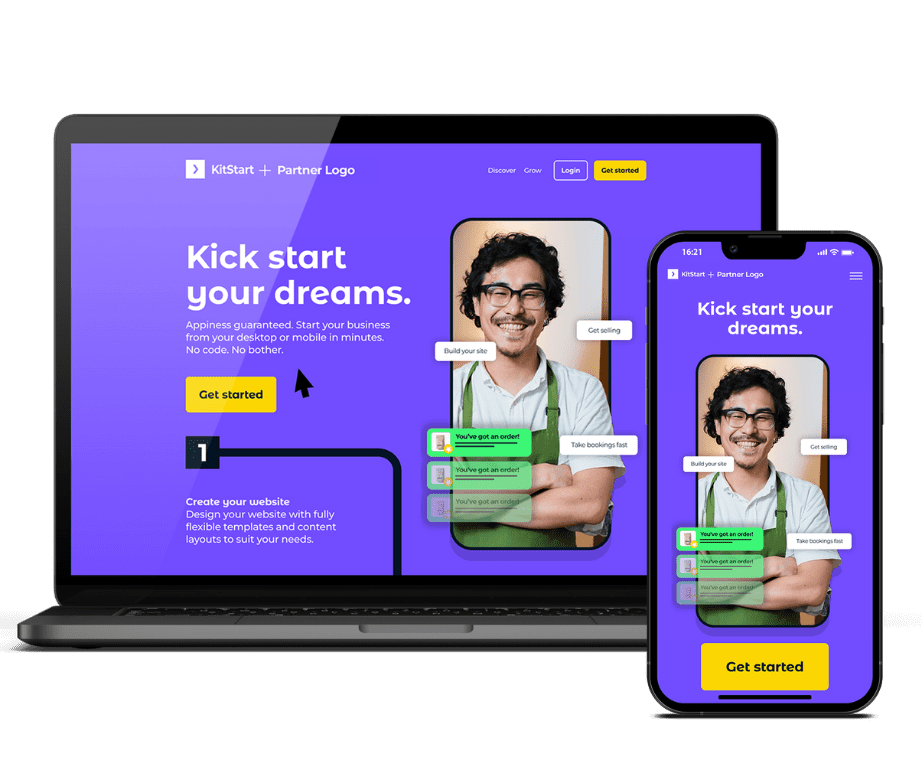 Easy does it.
Gain an effortless partnership
Brand.
We'll create a co-branded KitStart website with your logo, imagery and currency.
---
Connect.
Connect your KitStart website to your ecosystem. We'll provide a unique code to monitor sign ups and behaviour.
---
Market.
Drive your customers to your KitStart website – we have a suite of assets to help.
---
Earn.
Earn 40% monthly revenue commission from every single subscription payment.
Join the tech democracy revolution
KitStart is powered by BaseKit and designed to help engage more entrepreneurs into business globally. Our vision is a world where anyone with a business idea can thrive naturally, freely and successfully – powered by fast, simple and reliable technology.
Kick start dreams.
Mobile first editor.
Customers can build a website on their mobile or desktop in minutes.
---
Energy efficient imagery.
Our optimisation means images are faster, save energy and rank higher on Google.
---
Effortless bookings & payments.
Customers can sync their calendar availability and take payment at the time of booking, with Paypal and Stripe.
---
Fast and secure e-commerce.
Deliver convenient payment methods, inventory tracking and social media reach.
Ready to boost your digital services play?
We'd love to talk.
Let's do this