BaseKit helps to unlock the super-skills of the next generation of women in code with Dffrnt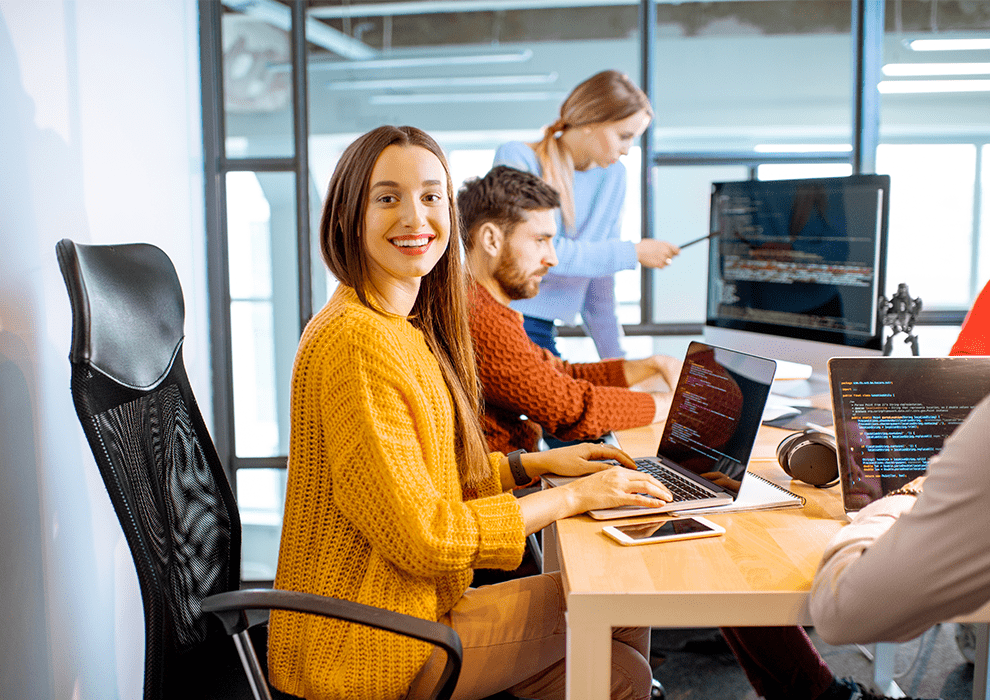 BaseKit is excited to announce we are sponsoring five women in code through the Dffrnt Supporters Initiative, designed to unlock the super-soft skills needed to navigate a successful career path in code.
Routed by the belief that everyone deserves a chance to be their most super-self, Dffrnt is a membership organisation that develops the business skills of the next generation.
Through Dffrnt's member network partnership with Codebar – a charity that facilitates the growth of minority groups in tech – we are delighted to be gifting a Dffrnt Supporters subscription for five women for a year.
We're also excited to offer the women taking part the opportunity to be considered for the next junior role available in our BaseKit dev team, tech career advice and support to help each woman start their career in code, and the option to publish a business online for free with our software if they choose to become an entrepreneur.
BaseKit Head of Development and Operations, Mark Jeffries said, "It's widely documented that minority groups are hugely underrepresented in the tech community. I firmly believe that a diverse engineering team is a better engineering team, and while we are lucky to have women and non-binary people in our team, it remains hard to recruit diversity into the team. That's something we need to actively get involved in changing."
How Dffrnt Supporters came about
Now a global community of some 5,000 entrepreneurs connecting and sharing across 9 countries, we asked Founder Ash Phillips shares how Dffrnt and its initiative 'Dffrnt Supporters' came about.
"I dropped out of university to start my first business, I came to realise that – in looking for people to share the joys & stresses of the journey with – entrepreneurship was against the status quo of my personal network, family and environment."
"I was by definition a little  different ('dffrnt') to my peers. As a result, I decided to find others like me and started a meetup for fellow entrepreneurs to connect and share."
When the pandemic hit, Dffrnt had to adapt to survive, they innovated into a 100% digital platform, but they also had to ensure they were providing their network with the support they needed to stay working during lockdown conditions.
It was during this time Dffrnt realised a deeper purpose was linked inherently to their initial mission: to provide the next generation of leaders with the learning and ecosystem they need to access the opportunities that will help them build great careers and great companies.
"In realising that not everyone who needed this input the most would be able to access it, I decided we should partner with organisations who want to support these people, and potentially access them as future employable talent and/or clients. Our supporters initiative was born to create a win/win relationship that provides companies with an effective way to deliver impact, and free Dffrnt memberships to those who might benefit from it the most".
Why is Dffrnt Supporters so important?

"I don't come from a world where this kind of learning is normal. The education system doesn't provide soft skills training even though it's arguably the glue that brings any specialist skill together to be effective in the workplace." says Ash.
"Anyone in history who ever did anything of note was never considered normal and so we want to develop people who, by definition, think a little differently, so that we can become the catalyst for the world-changers to come."
Primarily the Dffrnt Supporters experience will offer original premium content to help educate people on important topics that are often overlooked; such as time management, confidence, delegation, personal branding, networking and so much more.
"Combine this content with our already vast experience in building and managing communities, and regular events, on top of our entrepreneurial benefits, makes our offering an effective mix designed to develop the next generation of business leaders, powered  by incredible partners like Basekit. Thanks to them, members will get free access for a year."
"Soft-skills are an underserved area of education, in my opinion. The education system has (rightly) identified the digital skills gap as something that proactively needs fixing but I do wonder what might happen in 10 years if everyone is able to code but not able to communicate effectively, manage people, manage their time, or sell."
Ash hopes that the Dffrnt approach to soft-skills learning will fit neatly alongside already reputable, charitable organisations who are helping develop other – often technical – areas, and can be a highly effective addition to the experience that their cohorts will already be receiving.
What does the future look like?
The goal for Dffrnt's Supporters Initiative is to partner with 100 brands to support 1,000 people by 2025.
"From there, I'd love this to evolve into a consistent pledge that companies make to support the next generation and a community pool of developed talent that brands can hire from to grow diverse, well-equipped workforces."
Since launch, Dffrnt have had a resounding positive response from the business community, especially in Bristol. Alongside Basekit, the inaugural group of Supporters include Bristol WordPress agency Atomic Smash, Insuretech startup Fuelled, and accountancy firm FD Works.
"We're also in talks with large professional services firms in the region and media companies, that Bristol is home to many of. The common denominator, though, is that the management of all of these companies genuinely care about making an impact and that makes the work so much more fulfilling."
BaseKit CEO Simon Best said, "Tech is an extraordinary industry that is taking the world by storm but it desperately needs a more diverse workforce with unique support to help it thrive. BaseKit wants to help change the game for women in code and Dffrnt Supporters is a fantastic initiative to offer our support.  I wish all subscribers the very best of luck and am really looking forward to seeing what they achieve as they forge a successful career in code."