Beyond broadband: How telcos will stand out with a new digital services play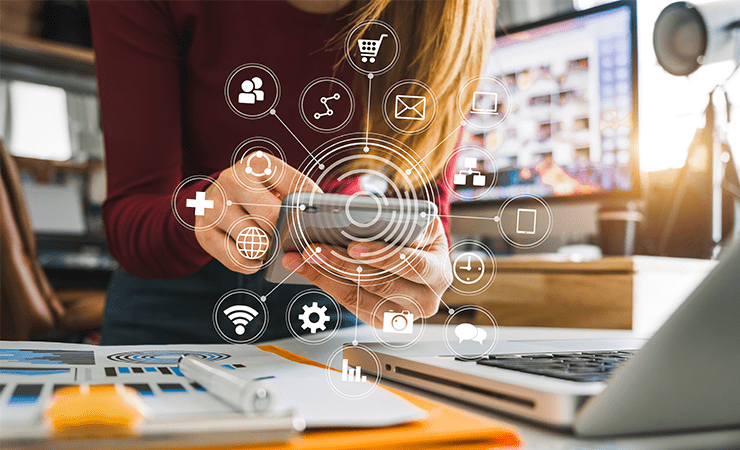 Everyday the telecom industry is overcoming technical and logistical challenges to expand and upgrade networks. And the goal of those projects isn't just to speed up broadband services – it's to improve the daily lives of customers, by forging better connections and transforming what's possible for them online.
As the telco space becomes ever more competitive, particularly in rapidly evolving markets like the Middle East, those user experiences will carry increasing weight for people weighing up their options. This doesn't only have implications for customer service experiences – it also means telcos will invest more in why people use the internet in the first place, and maybe even evolve their business models to meet those needs.
Because what if telcos enabled people to use the internet to its full potential? Helping small businesses to solve problems and others to achieve their dreams? These are questions that some are already answering with gusto.
What does connectivity really mean to customers?
There are many ways for telecom companies to invest more in people-first experiences. But the best way to begin is often to think beyond connecting people to the internet, and dig into what that connection means for them in real terms.
Take the rollout of 5G, for example. According to forecasts by GSMA, the deployment of 5G networks has been the fastest generational rollout so far, with 229 commercial 5G networks currently online and consumer connections expected to exceed 2 billion worldwide by the end of 2025.
The incentive for telecom providers to invest in 5G networks is clear – compared with 4G, they have the potential to make accessing mobile internet 10 times faster for users. But for those users, the benefits don't end with a faster loading webpage or download.
5G also means having more reliable and widespread coverage, which in turn brings people from rural or previously disconnected communities online. It can bring greater parity between using a mobile device and a computer connected to a broadband network, which lowers the cost barrier for accessing the internet. And for small business owners – especially those who are regularly out and about for work – it means they can continue efficiently running their business online without being cuffed to a desktop.
That potential is being shown in the global picture of 5G's rollout. While mature markets like the US, South Korea and China have generally led the way, many of the new 5G networks being deployed in 2023 are in emerging markets like India, Ethiopia and Ghana.
Meanwhile in the Middle East, Gulf countries like the UAE, Bahrain and Saudi Arabia have been among the first countries in the world to deploy 5G networks. With the vast majority of the population of the Middle East and North Africa using mobile devices to access the internet, telco investment in deploying 5G across the region isn't just about getting people faster internet – it's about bringing them online in a way that puts their needs, lifestyles and experiences first.
Thinking beyond broadband
When telcos start thinking about how to invest more in what their current and prospective customers need, it opens up new opportunities to bring them more value – not just through better connectivity, but also by potentially evolving their business model.In April this year, e& – BaseKit partner and one of the largest telcos in the Middle East– invested $400m to become a majority stakeholder in the super app Careem. The app serves users across the Middle East, Africa and South Asia, providing services like ride-hailing, food delivery and payments.
Their investment isn't just about putting their telco brand in front of more people. It's been part of a wider rebranding and restructuring project for the company, which has seen e& split into several new divisions and branch out into different ways of bringing value to consumers.
By investing in a super app like Careem, e& can put themselves directly into the hands of customers. They can lead the development of better digital experiences for their users – experiences that are convenient, sticky, and an integral part of daily life. And because they're partnering with BaseKit, and our platform is mobile-first by design, the ability to create websites with ease can be part of that experience.
Redefining what sets telcos apart
The telco market has always been highly competitive, and all too often that makes pricing the deciding factor for customers. But when telecom operators invest in offering more people-first experiences, it gives them a better chance to differentiate themselves and compete on different terms.
Everyone needs an internet connection, but everyone's needs are different. Do they just want to browse and shop online? Are they looking for ways to connect with a global community? Or are they trying to realise the dream of setting up a digital business?
Faster speeds and network coverage are only part of the equation – there's also the matter of showing people what possibilities are right in front of them, and giving them the digital education they need to fully grasp them.
So telcos can now ask themselves, what does it mean to not only provide access to the internet, but to enable people to use the internet?
The telcos who can answer this question will be better able to set themselves apart from the rest of the market, not just as internet providers but as champions of tech democracy. And it's a shift that all begins with investing in the customer experiences people want to find when they go online.
We're on a mission for tech democracy for small businesses – are you in? Request a demo of our software, or get in touch to see how we could collaborate.