BaseKit Integration Unpacked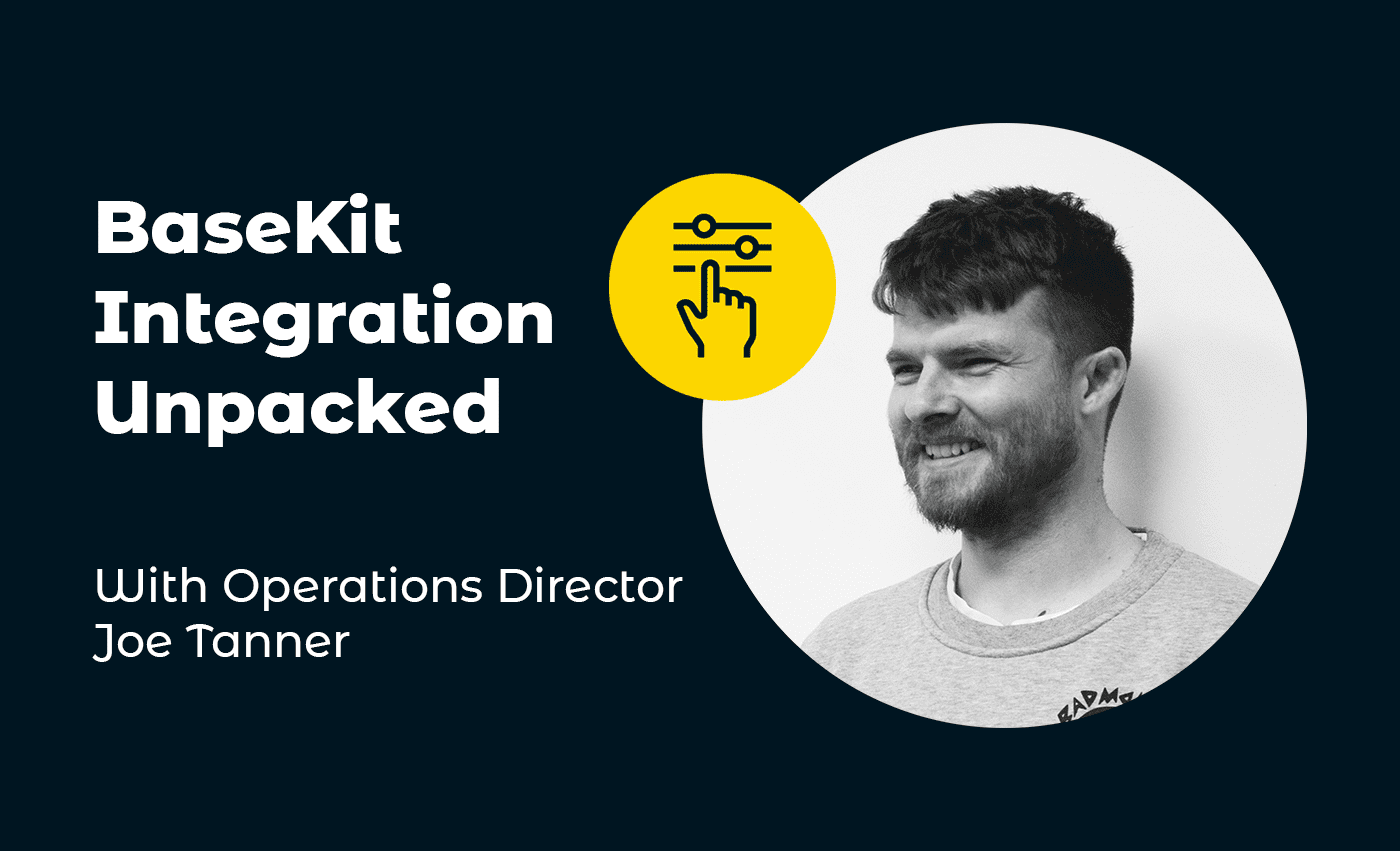 BaseKit has always been a channel business. Traditionally our white label site builder, e-commerce and bookings software is deployed via SaaS/On-Premise integrations with our partners who then resell it to their small business customers.
It's a process we have honed and learned a great deal from over the years in order to set our partners up for continued long term success in the most seamless way possible.
Here Operations Director, Joe Tanner delves deeper into the integration process involved for new partners rolling out BaseKit to their customers and shares his biggest pieces of technical and commercial advice from 15 years delivering the integration for over 100 BaseKit partners.
Integrating BaseKit as a white label product
What types of businesses are most suited to this type of business model?
"This model works best for businesses who are able to sell, provision and manage software products to their customers, whether this is something they already do well or have decided to start doing. Any business who has a customer base of small businesses and a desire to sell them software would suit this model well."
What are the core benefits of reselling BaseKit as a white label software product?
"There are four main benefits for any business integrating and reselling BaseKit software as a white label product."
Seamless integration – BaseKit is designed to work seamlessly with the existing ways in which any business is already selling software products to its small business customers.
Control – Our partners remain in full control of their customer billing relationships and communication. As a white label product, our software sits comfortably within their own ecosystem so they also remain in control of the way the product is delivered to thier customers.
Branding – Reselling a white label product means it can be delivered under our partners' own brand and fit neatly into their own familiar product or package portfolio.
Peace of mind – Our robust, self contained Platform and 24/7 operational support means partners have complete peace of mind when it comes to the security of their ecosystem and their customers' online businesses. They also automatically receive the latest Platform updates.
What does the integration process involve?
"BaseKit software can be integrated as SaaS – hosted on the BaseKit infrastructure, or On-Premise where it is hosted on the partner's infrastructure. A typical SaaS project takes somewhere between 6-8 weeks. A typical On-Premise project takes somewhere between 10-12 weeks."
1.  As a new partner, we run a dedicated onboarding project to get the business fully set up to sell BaseKit products (website builder, e-commerce store and bookings) to their small business customers, with everything hosted as SaaS with BaseKit, or On-Premise with the partner.
2.  We work with each partner closely to configure BaseKit products to meet their requirements, such as the languages they require the website editor to be in for their customers. We capture their choices and set the product up and connect it to their ecosystem via API or a range of plugin options.
3.  We also ensure BaseKit can integrate with the partners' existing billing and provisioning systems, and perform a complete live end-to-end purchase flow review.
4.  We then provide marketing materials, positioning advice and assistance and deliver support training to the partners' first line agents to prepare for product launch.
5.  Once ready to go live, we assign a dedicated account manager to work with the partner to strategically grow their business with BaseKit by keeping customer churn low and acquisition high.
6.  Once live we provide second line support to our partners support teams and also 24/7 operational support for platform wide emergencies.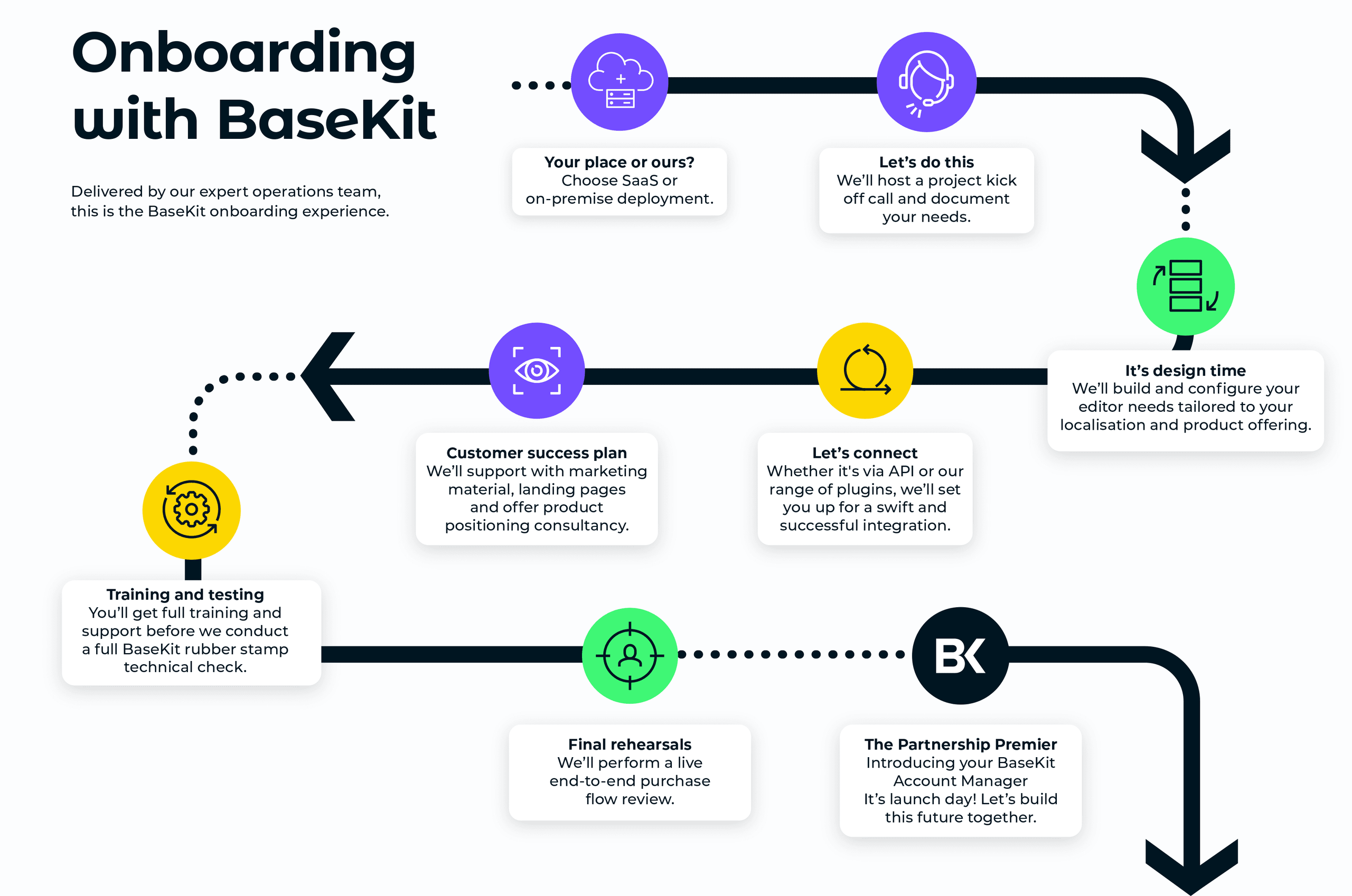 Download our BaseKit onboarding flow map
What's your biggest piece of advice to partners entering into the integration process?
"From a technical integration perspective, it's really important to have the right team and resources briefed in and ready to go at the start of the project. This ensures lead times don't slip when planning the product launch date and supporting marketing activities.."
"It's also vital early on in the onboarding project to get a good understanding of how the integration with the BaseKit system needs to work. We have a lot of supporting documentation to help our partners, and it really helps if they familiarise themselves with this and make use of our sandbox testing credentials right from the start."
"Commercially, it's really important to fully understand who your end customer is and what their needs and pain points are to help effectively position the product to different audience segments in different markets."
Looking to grow quickly?
Discover how BaseKit could just be the fastest and most seamless product integration you're looking for to grow your business.
Request a demo