How digital products have evolved to meet the needs of today's small business owner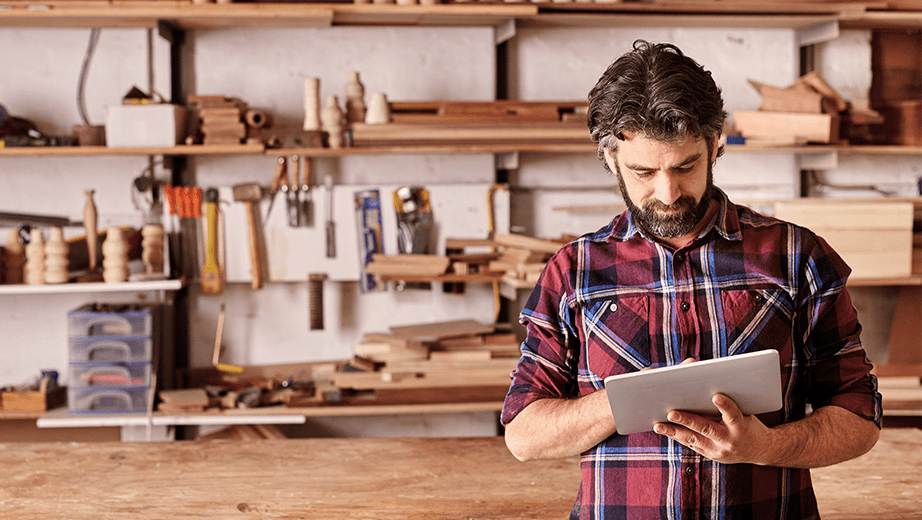 There are approximately 5.5 million small businesses in the UK, 33 million in the US and an estimated 400 million worldwide. From Italy to Canada, Pakistan and South Africa, the digital needs of these businesses are rapidly changing.
Factors including the smartphone revolution, rise of social media and more recently the COVID pandemic – and subsequent shift to a more flexible approach to remote work – have all played a significant role in the how and why individuals choose to start their own business.
In this article we'll look at how the requirements of business owners have evolved overtime and outline, what we believe to be, the essential digital tools a small business needs to succeed in 2023.
10 years ago, a small business looking to outsmart their competitors digitally may have had a static brochure website with flash animation and a professional email address (yourname@yourbusiness.com).
For businesses without a storefront or physical premises, these two digital tools helped improve their credibility and subsequently generate more enquiries.
As more small businesses moved online to promote their products and services, competition for eyeballs increased and the need to stand out from competitors and improve visibility rose. In this environment securing a position near the top of popular search engines became a surefire way of growing a customer base.
As social media grew in popularity and much of the world was pulled towards one of a handful of huge social networks, business owners were required to become content creators. Encouraging reviews from happy customers, offering expert advice and sharing updates from completed projects were all considered best practice.
And as smart phone technology continues to improve and telco networks offer ever quicker internet access via 3G, 4G and increasingly 5G networks – much of this online activity can be done from the palm of your hand.
Digital products for 2023 and beyond
So what digital tools does a small business owner need in 2023?
Create a website
A mobile-responsive website is a given, but simple functionality is also important. Gone are the days of a small business website taking months to build using lines and lines of custom code. Today's entrepreneurs can update and edit their website themselves and they want to be able to do it quickly.
Considering our own digital products, the latest version (v10) of our BaseKit Site product includes a visual page builder, built-in SEO tools and intuitive mobile editor so business owners can update their website on the go.
This last point is an important one and something we've received positive feedback on from our 100+ global partners. Now more than ever, their small business customers are on the move, whether that's due to juggling family life and work priorities or working on their side hustle in time away from their main gig. The ability to make changes to their online presence from their smartphone has gone from nice to have to must have.
Selling
Another phenomenon that's exploded in recent years is e-commerce. Already on the rise pre-pandemic, the global shutdown accelerated this shift to online shopping. Where online stores were cumbersome, timely to set up and difficult to configure as recently as five years ago, today's online e-commerce business owner demands more.
Over the last year we've made a number of significant product updates to our own e-commerce product BaseKit Store. From implementing a straightforward store setup process to adding new payment gateways, improving product duplication functionality, product integration with popular social media sites and adding new shipping features.
Taking bookings
The bookings software industry has also been through a significant period of change in recent years as business owners offering services – think yoga instructors, personal trainers, massage therapists, etc. – look to streamline their processes and offer their clients an easier way to book appointments.
We've seen demand for our own appointment bookings software explode with a remarkable increase in the number of partners adding the product to their small business offering in the last 12 months.
Transacting in one place
The acceleration of the digital economy means for new small businesses, the need for online transactions has gone from 'one day' to 'day one'.
Earlier this year we unveiled our Connect Vision – to connect the many most commonly used steps of transacting online for small businesses into one simple and repeatable workflow. We took the first step towards realising this vision by introducing our Customers Application – a single place to view all customer details and transactions.
Over the coming months we'll be introducing Customer workflows and adding a Zapier integration to integrate our platform with a variety of third-party productivity and promotional tools – think accounting software and email marketing software here.
To stay up to date on our product roadmap and how we plan to continue developing the BaseKit Platform to meet the needs of small business owners across the world, sign up for our newsletter.