A guide to white label website builders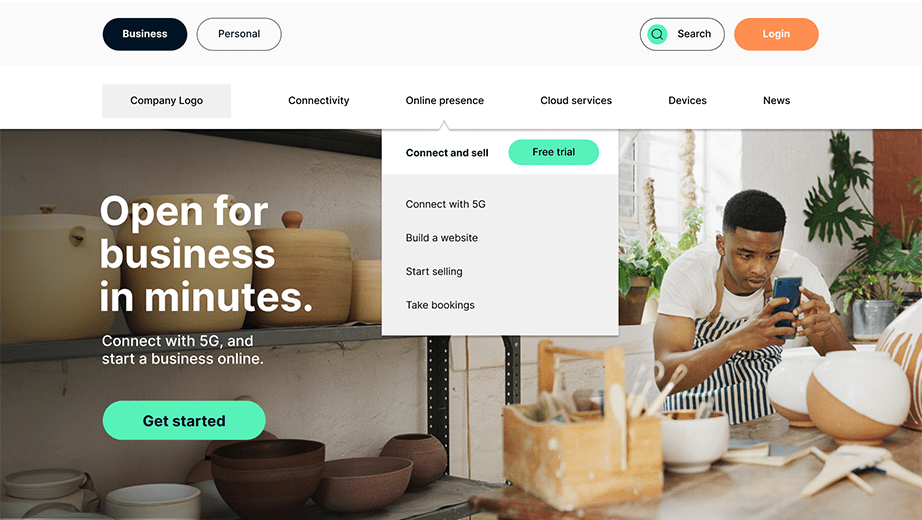 If you're looking at how to scale your company by offering a wider range of products and services, you might have explored the idea of selling an unbranded product, such as a white label website builder, which you can sell to small business customers under your own brand's banner.
In short, white label software gives companies a way of selling digital products like site builders to their customers without building the tools themselves, meaning they can scale their offering in a quicker, safer and more cost-effective way.
At BaseKit, we've been developing white label digital products like website builders, booking systems and e-commerce stores for over 15 years, using our partnerships with small business champions to drive tech democracy.
If you're considering offering white label website builders and other digital products to your small business customers, here's everything we know about the world of white labelling.
Contents:
What is a white label website builder?

In a nutshell, a white label website builder is a website builder that companies buy from a third party and re-sell to their customers under their own brand.

Of course, there's a little bit more to it than that. With a white label website builder, you're buying access to a site builder that's already been developed – meaning it's already gone through extensive user testing and iterative development, and has a mature range of key features that are ready to go as soon as the integration is complete.

White label software developers rarely sell their platforms directly to end users. Instead, their partners apply their custom branding to the white label tools and sell them to their own customers. They can then offer a white label website builder as a cohesive, integrated part of their wider range of products and services for small businesses, as opposed to partnering with an existing site builder brand and referring their small business customers away from their own brand umbrella.

Because you're buying the white label software, you're able to offer tools like website builders, booking systems or e-commerce stores to small business customers at a much lower cost than if you were to develop the same software solution yourself from scratch.

Who are white label website builders for?

The simple answer is that white label software is for any organisation that wants to expand on what it currently sells by offering digital products and tools as well. …

1. Organisations that champion small business success

If you already have an established base of small business customers, offering software products like a white label website builder can be a powerful way to not only offer those customers a more complete package, but also attract new small business customers to your brand.

In our 2022 YouGov poll of small businesses in the UK, we found that 39% said they didn't know who to trust when it came to buying digital tools for their business. For organisations like telcos, banks, hosting providers or SaaS companies who already serve small businesses in one way, that uncertainty is an opportunity for them to step in and provide another piece of the puzzle.

By offering software like a white label website builder, you can evolve your brand into one that gives small business owners the essential tools they need for their business to thrive.

One of the benefits of white labelling is that it also removes much of the risk from scaling what you offer small businesses. If your core services are broadband or business banking, expanding into the realm of site building software might feel too far outside of your expertise to risk it – but buying a white label website builder removes the need to source your own software developers.

2. Organisations that need new ways to scale

Because of its ability to add new services and products to your small business offering without taking the risk of building them yourself, white label digital tools provide a highly effective solution for organisations looking to scale their customer base, and to do it fast.

Because a white label website builder has already been developed and is ready for integration, rolling it out as a new product for your small business customers can take place in a matter of months.

But speed isn't the only factor. When you buy a white label software solution, you're buying a product that's been rigorously road tested by real users and refined in line with their feedback. That means you can trust in the capabilities and robustness of your white label website builder, and that your small business customers will trust you as a brand once they experience what your digital products can do.

And because white label software can be wrapped in your own custom branding, you can be sure that the new volume of small business customers you're attracting stay within your brand, and aren't just being passed on to referral partners.

3. Organisations that need a profitable way to serve small business customers

Even if you've already identified small businesses as an untapped market, finding a way to reach them isn't always straightforward.

While "small business" doesn't always equal "small budget", it can be difficult to offer software products to them at a price that's both affordable for the small business, and profitable for the company supporting them. That can be especially true for digital web agencies, whose site building services are often out of reach of the small business market.

But a white label website builder can bridge that gap. By white labelling, you can offer small business customers a powerful set of digital tools to build their online presence without investing in building them yourself. And when the initial cost of the software is lower, you can offer it at a small-business-friendly price without hurting your own ability to make a profit.

What are the benefits of a white label website builder?

Offering a white label website builder to your small business customers comes with a wide range of benefits: chiefly the ability to offer a mature, feature-rich software platform in a matter of months, and to scale your small business services in a quick, cost-effective way.

But there's more to what makes white labelling such an effective solution, so let's break down the benefits of white label software.

1. Launch a mature, feature-rich product from day one

When you build a software product yourself, there's a long stretch of road between deciding to make the product part of your offering and launching it to the market. And even after you've gone through the process of assembling or hiring a development team, conducting the research into what features your potential users need, and building and testing the platform, the version you launch will likely be many iterations away from the full feature set you'd initially envisioned.

With white labelling, you can effectively cut out that journey altogether. A white label website builder like BaseKit's is already a mature, feature-rich platform – it's already gone through the early stages of market research, user testing and the MVP build, and is ready to roll out to your customers after just a few months of integration.

What's more, our site builder, bookings system and e-commerce platform are constantly being updated by our expert development team. Those updates are also informed by feedback from all of our partners and their small business customers, meaning everyone benefits from a much richer set of features.

2. Tap into the loyalty of the small business market

As we've already said, white labelling is a highly effective solution for any business that's looking to scale its services in a short period of time. But while that's true for most organisations, it carries particularly attractive benefits for the organisations that support small businesses, or are looking to expand into that market.

There's a simple reason for that: small businesses are the backbone of the global economy. According to the World Bank, there are over 300 million small businesses around the world, accounting for 95% of all businesses worldwide.

But it's not just that the small business market represents a substantial, global opportunity. It's also that small business owners are often actively searching for digital tools to help them run their businesses more efficiently and expand their reach online, and they're highly receptive to brands that stand ready to offer them solutions.

In our 2022 survey of UK small businesses, we found that 62% of small business owners were not very likely or not at all likely to change their website provider. It's no wonder our partner Telefónica has seen churn drop by 42% since selling our white label website builder to their small business customers.

Once small business owners find a brand that offers the tools they need, they're unlikely to uproot themselves – and white labelling gives you a fast and cost-effective way to become that trusted provider.

3. Enjoy the fruits of someone else's innovation

When you partner with a white label provider, you're partnering with someone who spends every day working to develop and improve their platform. Their resources are focused entirely on pushing the boundaries of what their white label website builder can deliver.

For example, at BaseKit our mission is to be a force for good, and that includes our platform as well as our policies. We currently ensure that every new instance on the BaseKit system uses a data centre powered by at least 95% renewable energy, and we recently completed a migration project to ensure every instance on Google's cloud platform was using 100% renewable energy.

We've also integrated with ImageEngine, the leading Image Content Delivery Network, to make images on BaseKit sites load more efficiently for every device, and this reduces the energy demand BaseKit sites have on data centres.

Are white label website builders secure?

While it's easy to worry that you can't guarantee the security of a software platform if you haven't also had full control over the development of it, there's no reason that a white label website builder can't be as secure, if not more so, than a product you've built yourself.

Of course, security will always depend on the white label provider and the measures they put in place. But the reputation of a white label software platform and its developer rests on its ability to provide users with a secure, reliable system, and so security will always be a top priority.

For example, the security of the BaseKit platform is reflected in the fact that our white label digital tools are trusted by established names like Telefónica and ayoba, and that our website builder has instances of running over 100,000 end user websites at a time.

As we develop BaseKit's white label software, we're also constantly updating our security. From improving docker stack construction, penetration testing and DDOS protection, to vigilantly monitoring for potential security issues and vulnerabilities before they can impact partner platforms, we do everything in our power to ensure the BaseKit platform is as secure as it can be.

That also extends beyond the software itself. For example, we continuously review our internal security policies and educate our teams on how to safeguard against phishing and ransomware threats, to prevent our staff becoming a point of vulnerability for bad actors to access our partners' systems.

We also have 24/7 sysadmin and security support for our partners, so if there is a problem, you aren't waiting until the support desk opens the following morning to get it sorted.

All this doesn't just mean that a white label website builder is highly secure – it can also mean that white labelling might be more secure than building a platform yourself. If you take the DIY route, you can keep control of all the work that goes into making your software robust, but you also have to shoulder the investment and responsibility for infrastructure, server security and development and testing capacity yourself.

If you don't have those resources or the necessary cybersecurity expertise to deploy, it's easy to leave holes in your security that you aren't aware of or able to patch up, especially if you're rapidly scaling the platform to meet customer demand.

But because a white label website builder is designed to be robust at scale, white label providers can deliver on the need for security and threat protection.

How can you make your white label website builder launch a success?

There are many factors that come together to making a white label partnership and product launch successful, but often they can be boiled down to two things: doing your research on the right white label provider for you, and ensuring you're prepared to launch your white label website builder well before it's put in front of customers.

Of course, it's slightly more complicated than that, and there are many questions you'll need to dig into as you prepare for the partnership. For instance, you need to ask and define what you need from a white label digital product in the first place, as well as what kind of support you need from your partner en route to the launch.

Once you've chosen a white label provider and product, there are more questions to answer, such as how you're going to go about the technical integration phase, and what kind of marketing and customer acquisition strategy you'll need to get small business owners on board.

1. Choosing the right white label provider

Before you start thinking about launching a white label website builder, you of course need to have a site builder to launch. That starts with making sure you choose the right white label provider to partner with, and there's far more to that than price alone.

A white label provider isn't just a vendor to buy software from – they are a partner who should support you through integration and the marketing of that software, and they should also support you long-term via customer and system support.

As such, there are questions every organisation needs to ask themselves when they're weighing up white label partners.

What are your objectives for the partnership? If you're looking for a white label website builder to attract more small business customers, how are you planning to measure its success? Do you need support on the integration or marketing side, and if so, what gaps do you need your partner to fill?

The more certain you are on the answers to those questions, the better you will be able to evaluate which white label provider will be the right one for you.

2. Counting down to launch

Once you've settled on a white label website builder and partner, there's still work to do before it gets rolled out to your customers. A significant part of that will be the technical integration phase, including customising and configuring the product to meet specific partner needs.

It also includes drilling down into how you're going to market your new white label digital products to your small business customers. There's a lot of thought that needs to go into this aspect. For example, where is the product going to live on your website and among your existing range of products? Will it be presented as a core offering, or as an add-on to your packages?

Your answers to those questions can make a big difference to the success of a white label solution.

For example, many of our partners sell both our BaseKit Site and BaseKit Store, but they often sell them bundled together as an e-commerce solution. That's because they know that their small business customers are predominantly interested in building an online store, and will be more likely to buy a site builder if it comes with e-commerce capabilities than as a standalone product.

You'll also need to invest time into preparing your sales team for the launch. After all, they will be responsible for convincing many of your small business customers to take up the product, so they need to know how the platform works, why it matters to small business owners, and be aligned with what your marketing team is saying on those points.

These are all areas where your white label partner should be able to help you out. For example, we provide all of our partners with resources and advice on how to best position the BaseKit platform alongside their current products, as well as full partner training and first line support to ensure partners aren't in the dark about what they're selling.

We're on a mission for tech democracy for small businesses – are you in? Request a demo of our software, or get in touch to discuss what a BaseKit partnership could look like.